iFi ZEN Stream Review
A network streamer for the masses
Pros: – Plug and play
– Easy to use
– Crystal clear signal output
– Both USB and Coaxial outputs
– Wired and wireless
– Accepts hard drives
– Exclusive modes
– Dedicated app
– Spotify and Tidal connect
– Continuous support through updates
– Friendly price
Cons: – Exclusive modes system is awkward
– iFi iPower is only included in the first batch
– Loading large playlists takes time
– Second Coaxial output should be useful
– Advertised Chromecast and Roon are still missing
– Front buttons feel loose
The iFi ZEN Stream was kindly loaned to me for the purpose of this review and as always I am providing my honest and subjective evaluation.
All links provided are not affiliated and I don't earn anything by clicking on them.
Introduction
The ZEN Stream is the latest addition to the popular iFi ZEN range that consists of various well acclaimed, value for money, desktop audio devices.
The ZEN Stream is a mid-priced network streamer that integrates all the available methods of streaming over Ethernet or WiFi without relying on the noisy PC.
The price is €399 and is available from all iFi authorized dealers.
Technical information
Beneath its classy exterior, the ZEN Stream is a technological streamer-de-force.
It has one purpose – to send music simply from the Internet to your DAC with no loss of quality.
True hi-res performance of PCM384/DSD256 via WiFi/LAN.
Just add your smart device as a remote and away you go.
Optimised open-source architecture – works with multiple dedicated platforms, completely and perfectly future-proofed as it is constantly updated.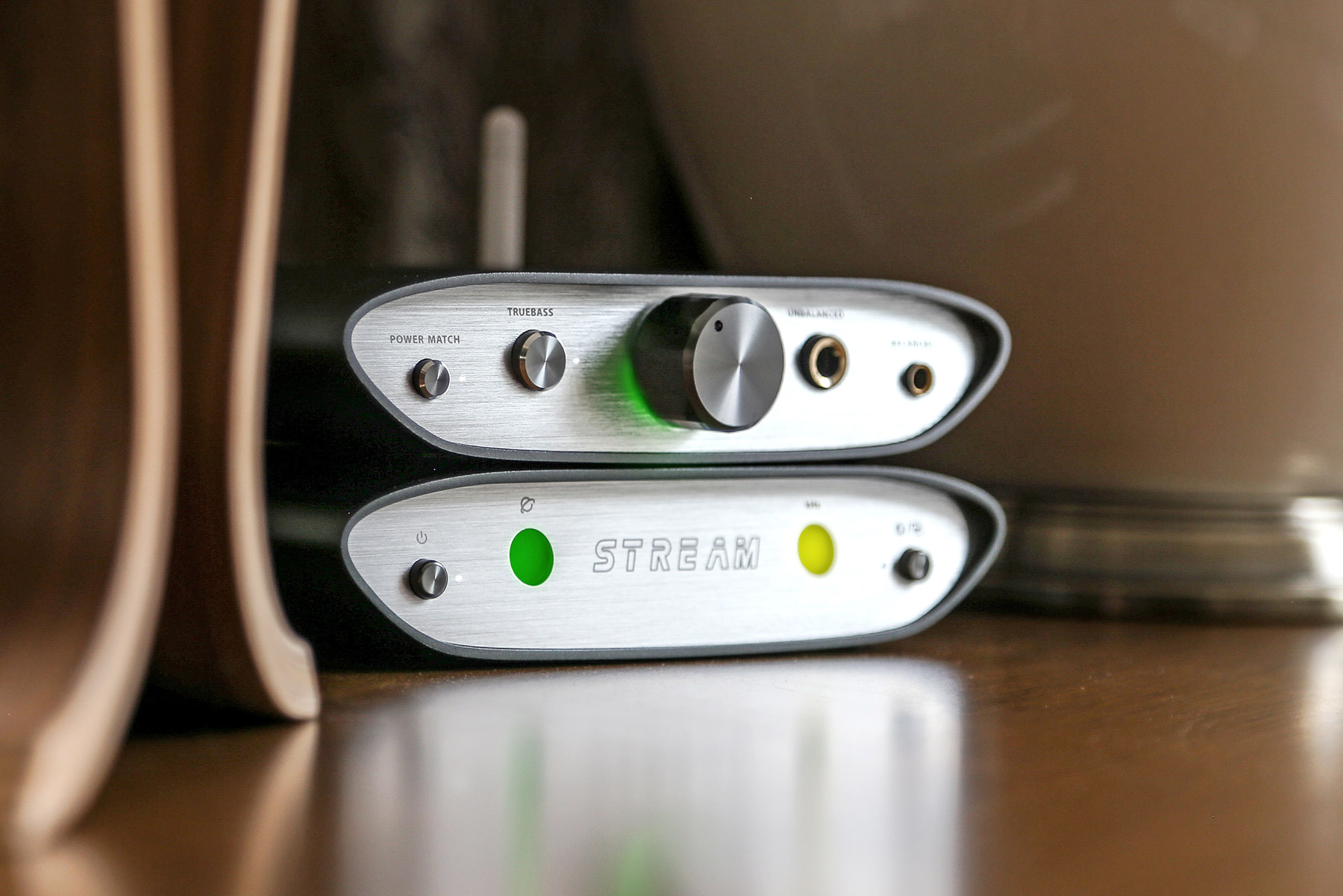 ZEN Stream is a true ground-up design by iFi — the hardware and software implementation is quite exceptional
Two SuperSpeed USB3.0 ports with Active Noise Cancellation II
S/PDIF out with the iPurifier built-in.
iFi software developed with Volumio open-source as the starting point, then coded and optimised by us to achieve the purest streaming software bar none.
These are some of the factors behind why the ZEN Stream is at the cutting-edge handling PCM384/DSD256 on LAN and WiFi (802.11n, with 100Mbps on 5Ghz).
From the device's drivers, to the kernel (the heart of the operating system), to the shell (which interfaces with the kernel), to the applications and the user interface — everything is fully optimised for seamless operation and excellent sonic performance.
An ingenious part of the ZEN Stream's design is the ability to select between 'Exclusive' modes – individual settings dedicated to specific modes of operation to deliver the purest possible performance.
All other programs are shut down – to minimise 'software jitter' — an often overlooked aspect that negatively impacts the quality of computer audio playback.
This ensures that the ZEN Stream is not merely a 'jack of all trades', but a master of all too.
All-in-one (AIO) covers all modes
Roon only (not available at the time of the review)
Tidal streaming
NAA streaming
DLNA streaming
So with ZEN Stream we can
Stream straight from Spotify/Tidal apps with Spotify Connect and Tidal Connect.
Works with any DLNA certified streaming app including the recently released iFi own app.
Integrated Airplay and Chromecast (not yet available) easy streaming from Apple and Android devices.
ROON Ready functionality to be added in a future update.
NAA operation in conjunction with Sygnalist's HQPlayer software.
Hardware
Beneath the unassuming casework sits some serious horsepower in terms of both technologies and components:
Powerful 64-bit quad-core ARM Cortex microprocessor.
USB and S/PDIF interfaces regulated by femto-precision GMT clock to eradicate jitter.
Active Noise Cancellation II and iPurifier technologies for USB and S/PDIF interfaces respectively.
Intelligent Ethernet switch controller.
High-PSRR, low idle current, low-dropout voltage regulators with soft start.
Synchronous 1.6MHz high-speed precision power supply controller.
C0G capacitors and Taiyo Yuden and Murata low ESR inductors.
Build quality and appearance
The ZEN Stream shares the same physical appearance with the whole ZEN series so they can be stacked together.
The case is made from a combination of metal alloy and aluminium with a nice finish and good build quality.
At the front there are two small press buttons that both feel a little loose and two multicolor LEDs that inform the user about the connection status and the streaming bitrate.
The back is heavily populated with the DC jack, a LAN port, a USB type C port for system only service, two type A female USB ports, (one for connecting a hard drive/USB stick and the other as a USB audio interface), the Coaxial output, the exclusive modes switch and the WiFi antenna.
The unit comes bundled with an iFi iPower 9V or 15V DC supply (both work), a short Ethernet cable of good quality, the WiFi antenna and a plastic screwdriver for the modes switch.
The first batch of the product includes as a bonus the upgraded iFi iPower instead of the generic power supply.
Setting up and operation
Initial setup is quite easy and almost plug and play as long as you follow the included quick start manual.
"Almost" because for some strange reason we didn't manage to configure it through the Ethernet connection but instead we used the WiFi hotspot method that worked like a charm.
Anyway it is pretty easy to get started and then the Stream will seamlessly work either wired or wirelessly without any further actions from the user, just press ON and after a few seconds you can start streaming.
The unit gets quite hot during operation and the exclusive mode switch needs a screwdriver in order to turn something that is not very practical especially if you use various streaming methods and you need to change the settings frequently.
Web based UI
In order to access the menu you have to open a browser and type the IP address "192.168.211.1" and then a web based UI will pop up displaying all menus and the music player home screen.
The graphical environment looks quite similar with the original Volumio but with a practical customization done by the iFi software developers.
Sometimes if you unplug the streamer and power it again the above IP address will change and you have to use an app like Fing to find it.
Learning curve is quite short and you don't have to be an expert in order to operate the Stream as it is very simple and a few minutes of exploration and experimentation are enough to successfully master it.
iFi application
While writing this review, iFi released their own Android and iOS compatible application to control the ZEN Stream.
All control and playback actions can be performed through the application which shares the same graphic environment with the web browser interface but this time you don't have to deal with IP or anything else.
Just launch the application, wait a few seconds for the Stream to be recognized and you are good to go with all menus and actions available at the palm of your hand.
System updates
iFi is very actively supporting the Zen Stream by releasing frequent updates that improve the performance and solve various bugs.
Updating is not automated and the user must manually check whether an update is available or not.
If an update is available you have to press "OK" in order to download it and then it gets installed without the need of any further actions.
We have installed about 5-7 updates without encountering any issues with system crashing or freezing and everything worked as intended.
Streaming
We have tested the unit by streaming music from the Qobuz music service and a hard drive directly attached to the ZEN Stream USB port but we don't use Spotify or Tidal accounts.
Streaming music from an attached hard drive is easy to do through the iFi application or any other compatible DLNA/UPnP app that can access the music library.
Building the music library doesn't take too long and navigation is pretty lag – free although you might experience a certain slow down while browsing larger libraries.
Search can be performed either through the traditional file system (which is faster) or using the various tagged musical categories.
All file types and sample rates are supported, gapless playback is available and the cover art is displayed in the application player screen.
Streaming music from a network attached hard drive is easy and straightforward without requiring any complicated actions.
Regarding Qobuz or any other streaming service (except the Tidal and Spotify) there is no other way to stream except using a third party UPnP application like the BubbleUPnP.
Chromecast would be a savior but by the time of writing this review it is not yet implemented so the user must rely on the paid edition of BubbleUPnP or something similar.
Now, it is not that expensive ($4.69), it is very easy to set it up and start streaming your favorite tunes.
You just have to enter the Qobuz subscription account details and then you get access to a full Qobuz browser including managing your favorites and playlists plus a full featured search.
User interface is simple and beautiful and the only thing you have to do is to choose the iFi player from the drop down menu which lists all the available UPnP servers that are running at your home.
Of course Tidal and Spotify have their own embedded "connect" feature so browsing is as simple as it gets and it is performed through the host application itself.
WiFi signal strength is strong and we didn't experience disconnections or any kind of lag even while streaming 192kHz/24bit material and then it is up to the user to decide whether LAN or WiFi yields better sound quality.
The (not so user friendly) exclusive mode
iFi streamer features an exclusive mode system, selectable through a screw switch at the back, that kills all unnecessary tasks giving priority to the selected one resulting in a better performance.
The default switch position is the "all in one" (AIO) that is the mode to use in order to perform initial system setup, updates, all other non music related actions and of course streaming with all the supported methods.
Selecting one of the other available modes like the exclusive DLNA that we have used while streaming Qobuz, there is an increase in performance speed, for example loading playlists and skipping tracks is done faster without any kind of lagging.
The exclusive modes system seems to be useful and yield better computing performance but the implementation is not so practical.
The procedure is that you have to power ON the device with the switch set to AIO and then select the desired mode because if you power ON with the switch left to another position except the AIO, the system will not boot up.
So if you want to avoid switching back and forth, you must leave the device constantly powered ON with the switch set to the desired mode.
Of course if you need to perform any other non exclusive action, like for example check for updates then you have to set the switch back to AIO.
Furthermore if you wish to switch between various modes, for example alternating between DLNA and Tidal exclusive then you have to power OFF, set the switch to AIO and then select the Tidal exclusive after powering ON.
At the end the whole system was proven to be troublesome and non practical so after a while we got bored and left the switch set permanently to the AIO position.
*Some combinations might work without powering off or might work without any problem after powering on but the DLNA exclusive mode definitely doesn't work as it is supposed to do.
Streaming quality
The user can choose between the USB or the Coaxial outputs but one at a time because they cannot be active together.
The USB output is active and can successfully power any USB powered DAC so it can be paired with all kinds of USB DACs and not only the ones with internal power supplies.
The outgoing digital signal is jitter and noise free, totally silent without the slightest audible distortion.
All DACs we have tested, delivered a crystal clean sound with excellent transparency, great detail retrieval and without any tonal shifts.
Both USB and Coaxial outputs perform with the same quality so it depends on your DAC implementation of which one to choose.
Furthermore the iFi ZEN Stream does an absolutely excellent job in killing the noise that is generated by the dirty power supply and the mechanical parts of the attached hard drives which otherwise greatly affects sound quality.
Excellent performance that can be further enhanced by updating the power supply to the iFi Power X or even better the iFi Power Elite.
Compared to the resident reference streamer, the Allo DigiOne Signature with the Shanti linear power supply, the iFi ZEN Stream sounded a touch less detailed and not as crystalline but differences where very minimal and on the plus side, the ZEN Stream appeared to generate a slightly more organic sound.
At the end
The iFi ZEN Stream is branded, plug and play, easy to use, has a nice UI with a dedicated app, both USB and Coaxial outputs, USB input, it is wired and wireless, it has noise suppression circuits, it is competitively priced and there is continuous support through regular updates.
Two things are missing, the Chromecast and Roon support that when they get implemented as advertised then they should raise the performance bar even higher.
Till then the ZEN Stream is still the most inclusive and user-friendly network streamer in the market with a price to performance value that is absolutely very hard to beat and as such it gets our highest recommendation.
*Roon is not officially supported but Roon users report that iFi ZEN Stream is perfectly working with Roon Bridge or something like that.
Gear used during this review
Denafrips Venus II (resident DAC)
Denafrips Ares II (kindly provided on a long term loan by the official distributor www.denafrips.eu)
Topping X Shenzhen
SMSL DO200
iFi ZEN DAC
FiiO E10K TC
Everything was plugged into an iFi Power station.
Copyright – Laskis Petros 2021