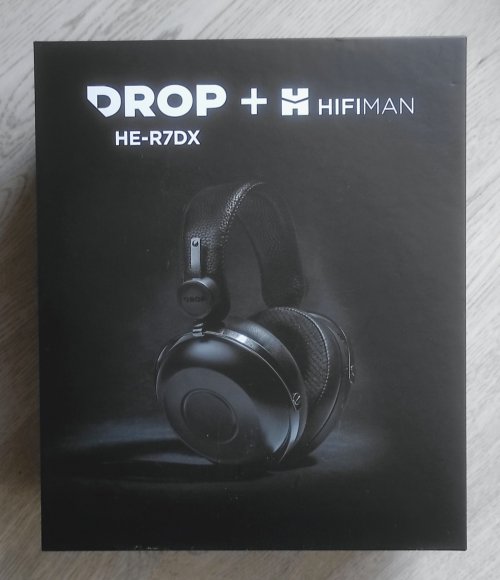 Drop HIFIMAN R7DX Review
Be sealed or be gone
Pros: + Featuring the famous HIFIMAN neutral sound signature
+ Great bass technicalities
+ Clear and resolving
+ Open and well defined soundstage
+ Lightweight and comfortable
+ Good passive noise attenuation
+ Well made cable with low microphonic noise
+ Easy to drive
+ It can go as low as $99 and then is the greatest bargain in headphone history
Cons: – Not as natural sounding in the upper frequency range
– Sound quality is heavily seal dependant
– Small headed people might not be able to achieve a proper sealing under any circumstances
– Outdated design
– Mostly plastic and bulky
– Thick and heavy cable
– Left/Right markings are not visible
– No carrying pouch
The review sample was kindly provided by Drop+ free of charge in exchange for my honest and subjective evaluation.
The regular price is $149 but sometimes gets discounted as low as $99.
The headphone is exclusively available from Drop.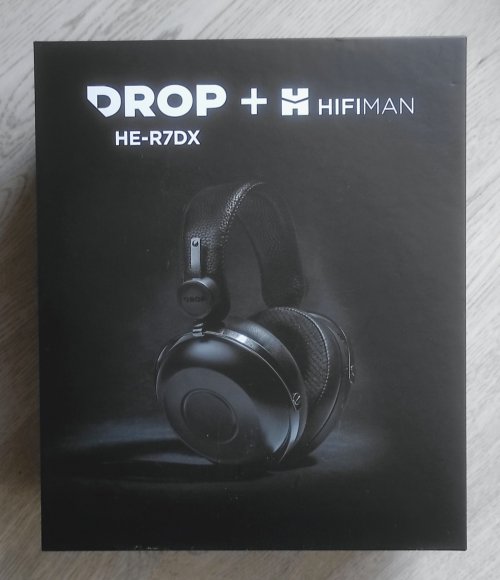 HIFIMAN HE-R7DX
Drop has a long established and creative partnership with HIFIMAN, they have produced some excellent planar magnetic headphones like the HE4XX and the HE5XX that are well regarded among the community.
However the HE-R7DX is their first ever collaboration in a closed-back headphone.
Technical highlights
The HE-R7DX is outfitted with a large 50-millimeter dynamic driver for mid range focus, high-end clarity, and low-end punch.
To give these drivers a competitive edge, HIFIMAN founder and chemistry PhD Dr. Fang equipped them with the company's new Topology Diaphragms.
An extension of Dr. Fang's graduate research on the varying structures of nanomaterials, the Topology Diaphragm features an innovative, uniquely-manipulatable nanoparticle coating on its surface.
The coating has distinct geometric patterns, which can be varied (along with their thickness and chemical makeup) to precisely tailor sound wave formation.
This allows for a level of sonic control never before seen in headphone drivers.
Build quality and appearance
The HE-R7DX shares the same design language with the HE4XX, it has the old-style HIFIMAN headband with a hand-stitched protein leather cover that envelopes a foam cushion and the inner spring steel.
The gimbals and yokes are made from steel and attach to the headband by the means of a rounded plastic component.
The height adjustment is done by freely sliding the cups up and down thanks to a friction mechanism.
It doesn't have the usual prefixed stops, so there is the possibility that it might loosen but for starters it is tight and gets the job done.
The left – right markings are barely visible so you have to rely on the cable markings in order to distinguish between them.
The plastic ear cups have the darkish blue – Drop trademark – color.
They are huge with a rather uninspiring and boring design, so don't expect to wear the HE-R7DX and make a fashion statement.
The hybrid earpads are custom made with a protein leather ring that surrounds the velour part that touches the face and are padded with soft memory foam.
Comfort and isolation
I have been reading various comments about the fit and seal of the HE-R7DX.
Mine came with a good clamping force out of the box, not too tight nor too loose, they stayed stable in my head with a clamping pressure which ensured proper sealing without causing any kind of discomfort.
If you find that your pair doesn't seal well enough then it is pretty easy to adjust the clamping force by gently bending the headband till you achieve the desired pressure.
The headphone at 338g is lightweight and thanks to the huge earpads it is super comfortable and suitable for extended use, minus the usual sweating due to the closed ear cups.
The only real downside is that the large sized ear cups may not fit people with small faces even at the lowest height setting and after bending the headband.
This is something to be carefully considered before buying because loose fit will result in poor sealing and bad sound.
Passive noise attenuation is very good given that you have properly adjusted clamping force.
Cable and accessories
The HE-R7DX has a detachable cable with dual 3.5mm mono sockets that HIFIMAN is using lately in all their headphones.
The 1.5m long cable is thick and heavy due to the rubber sheathing.
At least it has low microphonic noise and is surprisingly well made, much better than the notoriously poor cables that come bundled with most HIFIMAN headphones.
The HE-R7DX comes in a simple cardboard box with an inner plastic tray for keeping the headphone safely stored inside it.
There is no carrying pouch and the only accessory is a 3.5mm to 6.35mm adapter.
Not much to complain about given the price but they could have included a cheap, cloth pouch.
Associated gear
As per usual practice the headphone was left playing music for 150 hours before listening.
The Impedance is 16Ω with a sensitivity of 101 dB making the HE-R7DX very easy to drive.
With the FiiO K5 Pro ESS set to low gain I never reached higher than half of the available volume.
Except for the K5 Pro ESS, the SMSL SU-6/SH-6 stack was also used.
The importance of proper sealing
Before continuing it must be noted and emphasized again the importance of good sealing as it greatly affects the sound performance.
A loose fit will result in early bass roll off and pronounced upper-mids/treble response that will make the headphone sound bass light, bright and piercing.
So if you have been reading about the HE-R7DX being too bright and bass light then there is a great chance that the reviewer/user was evaluating the headphone poorly fitted into his head.
Listening impressions
If you have been looking for a bass heavy closed back headphone with rumbling sub-bass and accentuated low end then you will be greatly disappointed.
The HE-R7DX is not a bass-head headphone nor does it have the popular, heavily V-shaped crowd-loving tuning.
This is undeniably a headphone with the reference HIFIMAN sound signature.
Well extended but not too deep sub-bass, neutral bass, linear mids and a touch of upper-mids / treble emphasis.
It is exactly like listening to your favorite HIFIMAN open headphones, like the HE400SE, but with some extra bass presence and impact.
The bass tuning is extremely well done for a budget, closed back, headphone, featuring an almost neutral frequency response with good technicalities that far exceed the expectations.
Sub-bass extension is not that deep in absolute numbers but you will not feel anything really missing unless you love your bass heavy, thick and over cooked.
The headphone is definitely not lacking in some serious fun when it comes to electronic tunes but it is not what we would call a party animal.
Then there is the slightest mid-bass emphasis to add some kind of warmth and compensate for the lack of extension but at same time clarity is kept on the highest level so the bass line sounds accurate and well defined without never clouding the mids.
The bass is tight and well controlled, not bloomy or loose, you will not hear the annoying cup reverb, a usual phenomenon that is synonymous with budget (and not only) closed back headphones.
Dynamics are good and although the presentation is not that punchy there is always a satisfying level of dynamic contrast, adding the needed sense of realism.
The texture is not as visceral as someone would expect from a closed headphone but it is not too lean either, it is mid ground and maybe fuller than some of the open-back budget HIFIMAN headphones like the HE400SE.
The mid range is the classic HIFIMAN neutral target with a touch of upper-mids emphasis that doesn't get too pronounced.
Articulation, layering and clarity are surprisingly good for the price, the region sounds spacious, quite engaging and harmoniously intense but you will not fail to sense some kind of dryness to the sound.
Timbre is more or less natural when it comes to voices and instruments with good coherency minus a touch of upper-mids glare but not that much as for the region to sound piercing or shouting.
Climbing higher and the texture becomes leaner while timbre gets negatively affected by becoming somewhat metallic and artificial.
The sound is not too bright or fatiguing but notes do loose in intensity and become thinner with a faster decay and too short in duration, missing in reverb.
The detail retrieval is stellar for the price, the HE-R7DX is a finely resolving and well articulated headphone.
The HE-R7DX is not bright sounding per se, it is just luminous, fast and agile with a sound character that will satisfy most people that are looking for an everyday, all rounder, headphone that is suited for long term listening without causing any ear fatigue.
The only real downside is that some higher pitched instruments or harmonics will sound slightly out of tune and not too convincing regarding the naturalness of their timbre but we are really nitpicking here.
The soundstage is the real star of the show, wide and extended with a rare spaciousness for a closed headphone, the HE-R7DX sounded superb, with accurate imaging, sharp positioning and adequate depth layering.
The HE-R7DX is grand and glorious either while listening to music or watching movies and while I do not game, I bet that it can make a perfect gaming companion.
A good sound example that highlighted both the strong and the weak points of the HE-R7DX was the following recording of Rinaldo Alessandrini featuring concertos by Antonio Vivaldi and their arrangements by J.S Bach.
I don't own any other closed back headphones, except the 10 times more expensive Meze Audio Liric, so I can't offer a fair comparison.
But on the other hand, as already discussed, comparing the HE-R7DX with similarly priced open back headphones strengthened all the arguments about the overall quality of its sound.
In the end
The Drop+ HE-R7DX is a good sounding headphone with a mostly neutral sound signature, great technicalities for the category and a surprisingly open sounding nature.
For a mere $149 (and sometimes as low as $99) you can get a great taste of the HIFIMAN house sound from a versatile, closed back, headphone that is commute and travel friendly plus easy to drive.
Build quality is good for the asking price and while it is not going to earn any design prizes the only real downside worth mentioning is that the sound performance is largely fit dependent.
But the headband clamping pressure can be easily adjusted and minus some exceptions you are definitely going to find a way to make it sound as good as it can.
Copyright – Petros Laskis 2022.