Loxjie D30 Review
Stellar Sounding DAC / Mediocre amplifier
Pros: + Great sound for the price
+ Good technicalities
+ Clean and resolving
+ Silent
+ MQA decoding
+ aptX HD wireless reception
+ Fixed and variable line Outputs
+ Good build quality
+ Small footprint
+ Remote control
Cons: – Underwhelming headphone amplifier
– Bluetooth limited to aptX HD
– Not the most dynamic or detailed presentation
– Fierce competition
The review sample was kindly provided free of charge in exchange for my honest and subjective evaluation.
The price is $259.99 and you can buy it using the following (non affiliate) link.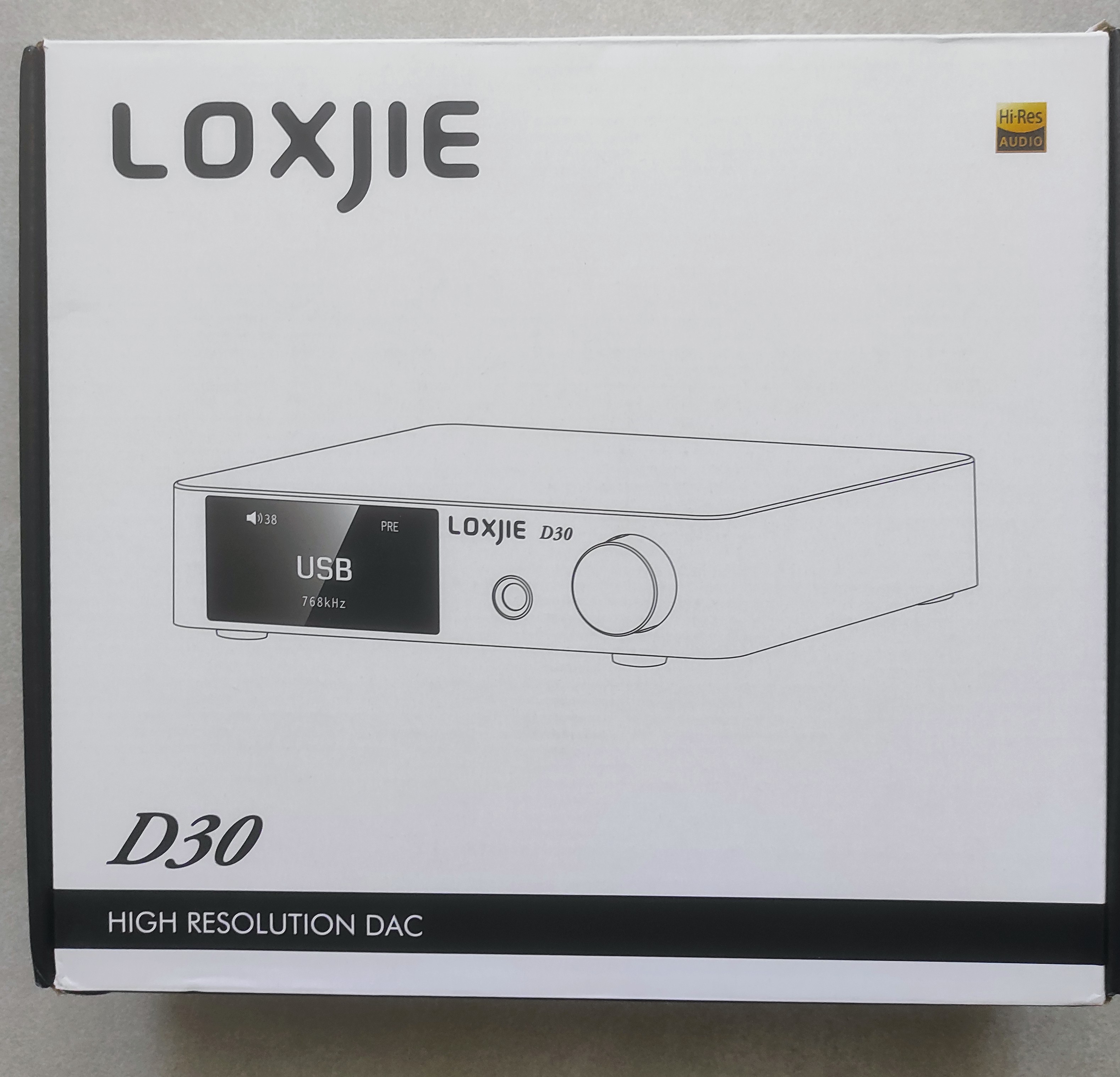 Introduction
While some of you may not be familiar with LOXJIE, you certainly are with SMSL.
LOXJIE together with SMSL and SABAJ are sister brands under the same parent company.
The LOXJIE brand shares the same design and build language with SMSL but they are targeted at the budget market with more cost effective products.
LOXJIE D30 (2021) – Technical highlights
LOXJIE D30 (2021) is primarily a digital audio decoder (DAC) with a built-in headphone amplifier that can decode PCM up to 32bit/768kHz and DSD up to 512 with full MQA support.
The new, 2021 version uses a second generation XMOS receiver to feed a single piece of ES9068AS from ESS.
It is equipped with two low phase noise crystal oscillators for 44.1kHz and 48kHz respectively.
The analogue stage utilizes an OPA1612 audio dedicated op-amp from Texas Instruments.
The headphone amplifier section allows it to output up to 110mW into 32Ω.
The D30 also features an internal low noise regulated power supply.
I/O interface
The D30 has three digital inputs (coaxial, optical and USB) that are all located at the back together with the AC IEC input, the Bluetooth antenna and the RCA analogue output.
Bluetooth 5.0 (with aptX HD) is also supported.
The wireless performance is great without disconnections and a good working distance inside the house.
At the front face there is the 6.35mm headphone socket, a small, full color IPS display and an aluminum volume/multifunction button.
A handy remote control is also included in the package.
Build quality and accessories
The D30 is a compact device measuring just 151x170x38mm and as such it occupies little desktop space.
The grey colored chassis is made from high rigidity aluminium that is not only very beautiful looking and elegant but it also helps to eliminate vibrations and add better electromagnetic shielding.
Build quality and finish are excellent and certainly well above the asking price.
The D30 comes complete with the remote control, the Bluetooth antenna, a quality USB cable and a power cord.
User Interface
The user can control the unit either with the multifunction button or the remote control which has also a couple of handy shortcuts.
The colored LCD screen will display all the necessary information and navigation through the menus is easy to do.
Users familiar with SMSL DACs will find out that the menus are almost identical.
The default display shows the input, output volume, file type, and sampling rate.
You can adjust various parameters like – inputs, outputs, PCM filters (fast linear, slow minimum & minimum phase), Pre mode, DPLL, BT clear, Dimmer, Brightness, and Reset.
A very handy feature is that the headphone and line output volumes are independently stored in memory.
When you switch the output mode then the volume will switch at the same time so you don't have to worry about blowing your headphones.
For Windows users you will need to install the official driver.
The line output can be set as fixed or variable in order to use the D30 as a pure DAC connected to an external amplifier or as a preamp with active monitors.
Listening impressions as a DAC
Before listening sessions I left the D30 playing some music for about 150 hours.
I have mostly used headphones of the same price tag like the HiFiMan HE400SE, Sennheiser/Drop 58xx and Sennheiser 660S.
In order to test the DAC performance I hooked the D30 into the SMSL SH-6 headphone amplifier which is a benchmark of its own.
(SMSL SH-6 provided courtesy of Shenzhen Audio)
The D30 performance as a DAC is rather stellar without any serious drawbacks for the price point.
The frequency response is absolutely linear which results in a neutral sound signature with good technicalities.
The DAC is well extended to both ends of the frequency spectrum with deep bass response and a sparkling treble with plenty of low level detail retrieval and an excellent clarity.
The D30 doesn't sound lifeless, it is pretty involving, musical and enjoyable, suitable for all kinds of music.
Timbre is quite natural, smooth and not artificial and although some digital artifacts are creeping here and there coloring the sound a little metallic, nevertheless it never sounds bright or shrill.
Bass has good authority, it is full bodied and well controlled with great definition and layering.
Mid range is finely articulated, present and harmonious, with softened edges, lifelike texture and plenty of air around the performers.
Tone color is mostly neutral, not warm nor cold and this makes for a great match for all headphones as the DAC does not impose a character of its own.
The D30 is quite resolving for the price point and while it cannot compete in technicalities with higher tier models, it still is capable and technically adequate especially when it comes to soundstage, which sounds expanded, spacy and quite holographic.
All in all, this is a well balanced DAC with good musicality, good depth of expression and an overall performance that certainly surpases the asking price.
I have listened to various kinds of music for testing purposes and a lot of classical music for my pleasure and I remained wholly satisfied with the overall performance.
This new release of Domenico Scarlatti's Stabat Mater is worth listening to and a nice addition to the catalogue.
The D30 succeeded in faithfully reproducing the recording with fidelity and a good sense of musicality.
The Headphone amplifier
The D30 would be a truly excellent, all in one, device if it was not for the rather underwhelming headphone amplifier.
It is not that it doesn't sound good or alter the sound qualities of the DAC as described above, on the contrary it should be considered transparent.
The real problem lies in the mediocre power output and the lack of driving force, especially when it comes to more demanding loads.
Thus said, with easy to drive earphones or headphones, like the Meze 99 NEO, the performance is up to the task and the user shouldn't be worried about adding an external amplifier.
There is also the benefit of being completely silent with a black background, making the amplifier very suitable for higher sensitivity earphones.
The Competition
The $259 LOXJIE D30 is not without any serious competition.
Priced at $199 the Topping DX3 Pro+ is another serious contender with great sound, Bluetooth with LDAC support and a whopping 1800mWx2/32Ω of power output.
Then if you don't care about wireless connectivity, the FiiO K5 Pro ESS version will set you $199 apart for some great sound quality and 1500mW/32Ω of output power minus the remote control.
And for $170 only we have the sister brand SMSL SU-6 which is excellent sounding with smaller footprint and LDAC support but without MQA decoding and without a headphone amplifier.
Thus said, the D30 is the only one between the four to support MQA decoding, something that you should consider before choosing.
In the end
Leaving competition aside, the LOXJIE D30 (2021) is an excellent sounding standalone DAC with MQA decoding without any serious shortcomings except the headphone amplifier that should be considered as a welcomed bonus rather than a serious performer.
As such it is highly recommended as a DAC or a preamplifier for active monitors and will also cover headphone use with more sensitive models and IEMs.
Copyright – Petros Laskis 2022.