Hidizs AP80 Pro-x Review
Hidizs AP80 Pro-x Review
Old school DAP with a modern twist
Pros: + Stellar sound performance
+ Crystal clean and transparent
+ Low noise floor
+ Digital sound processor
+ Dual way USB DAC function
+ Bidirectional Bluetooth with LDAC support
+ Excellent Bluetooth performance
+ Responsive and bright screen
+ 8x MQA decoder
+ Very compact and lightweight
+ Excellent build quality
Cons: – Sound could use more weight
– Slightly forward treble
– Not that powerful for full sized headphones
– Android USB OTG function not that well supported
– No aptX HD
– Battery duration
– A protective case is really missing
The review sample was kindly provided free of charge in exchange for my honest review.
I didn't receive monetary or any other kind of compensation and I don't use affiliate links.
The price of the AP80 PRO-X is $199 and you can buy it from the Hidizs official store.
Hidizs was kind enough to offer a discount coupon for ichos-reviews readers.
You can type ICHOS5 at checkout and get a %5 discount to the entire Hidizs online shop.
About Hidizs
Hidizs was founded early in 2009, when pocket HiFi had just become a thing.
At that time, they were pricey and badly made.
Digital music sucked in those days, but people didn't really care.
Tamson, the founder and the CEO of Hidizs, did care.
He was an audiophile and fronted an underground rock band in college. After graduating, Tamson dedicated his life to making HiFi music players for lossless music.
As an audiophile, it was a no-brainer; music should be heard as it was intended to be.
In order to produce better quality portable HiFi audio devices at an affordable price, Tamson brought together a group of audiophiles with extensive backgrounds in HiFi audio R&D.
With a core staff of over 40 audio-obsessed professionals and decades of combined experience, Hidizs has been able to consistently produce the highest quality portable digital audio players (DAPs), earphones, USB DACs, etc.
Hidizs AP80 PRO-X
The AP80 PRO-X is an "old school" ultra compact sized DAP without WiFi that can playback music files that are stored in an SD card.
The AP80 PRO-X also supports bidirectional Bluetooth 4.2 with HiBy UAT, Sony LDAC and CSR aptX codecs so it can be used as Bluetooth audio source and double as a Bluetooth DAC/amp.
At the heart of the AP80 Pro-X there are dual ESS9219C DAC chips in a balanced configuration with analog gain control to reduce output noise.
The unit can output 190mW/32Ω from the 2.5mm balanced jack and 70mW/32Ω from the 3.5mm.
With a built-in FPGA chip HBC3000, AP80 Pro-X supports native DSD64/128/256, 384kHz/32Bit PCM and 8x MQA.
The 800mAh internal battery is able to keep the AP80 PRO-X going for about 6 hours depending on the headphone load and can be fully charged in about an hour.
Design and build quality
The AP80 PRO-X is one of the most compact sized and lightweight DAPs in the market.
Measuring just 61x56x13.8mm and weighing 68g only, it is so small that you can fit it virtually everywhere and carry it with you while on the go.
The chassis is made from a one-piece aluminum body by the aid of CNC milling technology.
The right side of the AP80 Pro-X is highlighted with an X-shaped design, with angular diamond surfaces and the geometry of a six-sided ice crystal.
Build quality and finish are excellent, the AP80 PRO-X is very beautiful looking and you can choose between three different colors, black, grey or blue.
The screen though is not tightly flushed into the mainframe so you can feel with your fingers the slightly protruding edges and the sharpish corners.
The unit comes with pre-installed protective films both at the screen and the back side of the chassis.
At the right side of the unit there is a Japanese ALPS volume wheel that doubles as an on/off switch, followed by three aluminum buttons for forward, back, and play/pause.
At the bottom there are the two headphone outputs (2.5mm balanced and 3.5mm single ended) and the USB type C port while the left side houses the micro SD slot that supports up to 512GB cards.
Accessories
Inside the box you are going to find 2 extra protective films, a USB C to A charging cable, USB C to C OTG cable, the quality certificate, serial number card, a 10% off VIP coupon and the user manual.
Sadly the package doesn't include a silicone protective case while a leather case is available as an extra purchase.
User experience
The AP80 PRO-X is powered by the Ingenic X1000 processor to run the latest HiBy OS 3.0 so you are limited to the embedded features of the operating system since you cannot download and install any other applications.
Thus said, the AP80 PRO-X is fully packed with everything you need to access and playback your files or tweak the sound to your liking.
You are going to find the usual tag and file browsers, simple EQ settings, the powerful MSEB Hibby digital signal processor and even a pedometer.
The AP80 PRO-X is fast enough when it comes to library reading speeds and file browsing while the interface is cleverly designed to be used one handed.
As is to be expected the DAP is equipped with a smallish Samsung 2.45" IPS 480×360 touchscreen which is quite responsive but people with larger fingers should have a hard time getting used to it while I found that the upper left corner wasn't that responsive.
Visibility is good with vivid colors and the screen will display playback information and the album cover art.
USB DAC function
The AP80 PRO-X supports dual way USB DAC, so you can use it as a digital transport to a better desktop DAC or hook it to your PC as an external USB DAC.
Android USB OTG function is also supported but it is not plug 'n play user friendly.
You have to enable the USB debugging option and install the Hibby music player in order to playback music from your phone.
Streaming services are not natively supported unless they are embedded into the Hibby player.
Given that, if you need to stream music from your phone, you will be better served with the Bluetooth connection rather than the wired one.
Bluetooth connection
And this takes us to the Bluetooth wireless connection which is the real star of the show.
The AP80 PRO-X is one of best Bluetooth DAC/amps I have ever used with a super stable connection and a stellar sound performance.
With the LDAC codec enabled, sound performance was almost identical to that of the local playback with some minimal losses in quality.
Streaming Spotify was really good sounding while listening to high resolution material from Qobuz yielded satisfying results minus a loss in overall fidelity and refinement.
I would certainly choose the AP80 PRO-X for its Bluetooth performance alone even if I didn't care about the DAP function.
I would like to think of the AP80 PRO-X as an excellent Bluetooth DAC/amp with the added bonus of the DAP.
The only thing really missing is the support for aptX HD so if your phone is without the LDAC codec then you are stuck with plain aptX.
Docking your AP80 PRO-X
The AP80 PRO-X is also compatible with the Hidizs DH80 portable balanced DAC/amp which can also act as a docking station for it.
The DH80 features a single piece of the ESS9281C Pro DAC chip with dual RT6863C op-amps that double the power output to 4Vrms from the 4.4mm jack and 2Vrms from the 3.5mm.
You can buy the DH80 to use it as a standalone USB DAC or to dock your AP80 PRO-X as a digital transport.
By docking the AP80 PRO-X to the DH80 you are essentially bypassing the AP80 PRO-X internal DAC for that of the DH80.
There are no other benefits like battery charging since both devices keep running from their own batteries.
Sound-wise both units are so close in audio performance that there are no significant differences to justify owning both.
Subjectively speaking, I wouldn't buy the DH80 for docking my AP80 PRO-X, I don't see any real benefits except for the higher power output but your mileage may vary.
For those who don't care about owning both you can always buy the DH80S which is essentially the same device without the docking station.
Power output and noise
The AP80 PRO-X is not super powerful but given the size it is more than adequate and on par with most balanced USB DAC dongles of the same size and internal configuration.
It will run most of your earphones plus some easy to drive full sized headphones while noise floor is kept extremely low.
I did most of my listening with the Hidizs MD4, FiiO FA7S, Meze ADVAR and Sennheiser HD660S.
Listening impressions
The AP80 PRO-X is absolutely neutral and transparent with a linear frequency response and a balanced sound signature that is luminous and somewhat treble forward.
Clarity and fidelity are excellent, especially from the balanced output, while the AP80 PRO-X is really enjoyable and not clinical at all.
Timbre is mostly natural but some upper-mids/treble glare is present albeit it doesn't lead into excessive hardness or a too metallic sound.
Listening to solo piano music is convincing and realistic enough but the attentive listener will not fail to notice some oddities and artifacts in the upper register of the instrument but at the end of the day they are not too severe to spoil the experience.
Bass is well extended, fast and precise, tight and controlled with good layering and convincing dynamics but it should be noted that texture is quite lean and not as full bodied.
Mid range is also crystal clear and coherent with fine articulation and plenty of harmonic variety.
The AP80 PRO-X is very open sounding with a sharp, airy and well extended treble that is touching brightness but not fatiguing or piercing even if you push the volume too loud.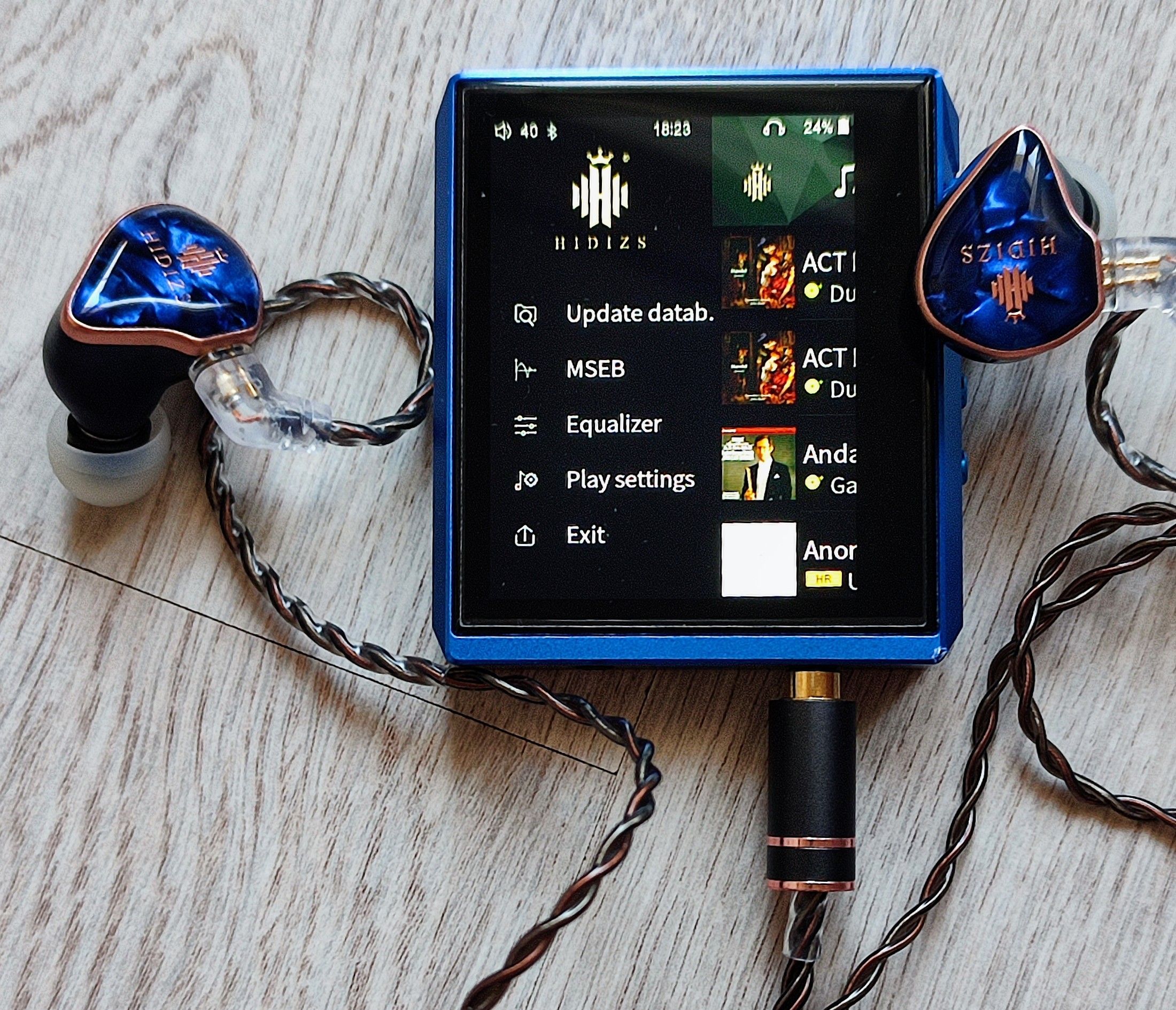 Detail retrieval is very good for the category while the soundstage is wide and spacious with pretty sharp and accurate imaging.
The AP80 PRO-X is a surprisingly good sounding DAP that feels at home with all kinds of music while earphones matching is not an issue thanks to the powerful sound personalization.
In the end
I really like the concept of the AP80 PRO-X, it is an ultra compact and lightweight DAP that can double both as a wired and Bluetooth USB DAC/amp with a stellar sound performance.
You can carry it with you while camping and hiking during the weekend or pair it with your phone to stream music while at the office.
A very versatile and cleverly designed audio device that can successfully accomplish a variety of roles and as such it gets highly recommended.
Copyright – Petros Laskis 2022.